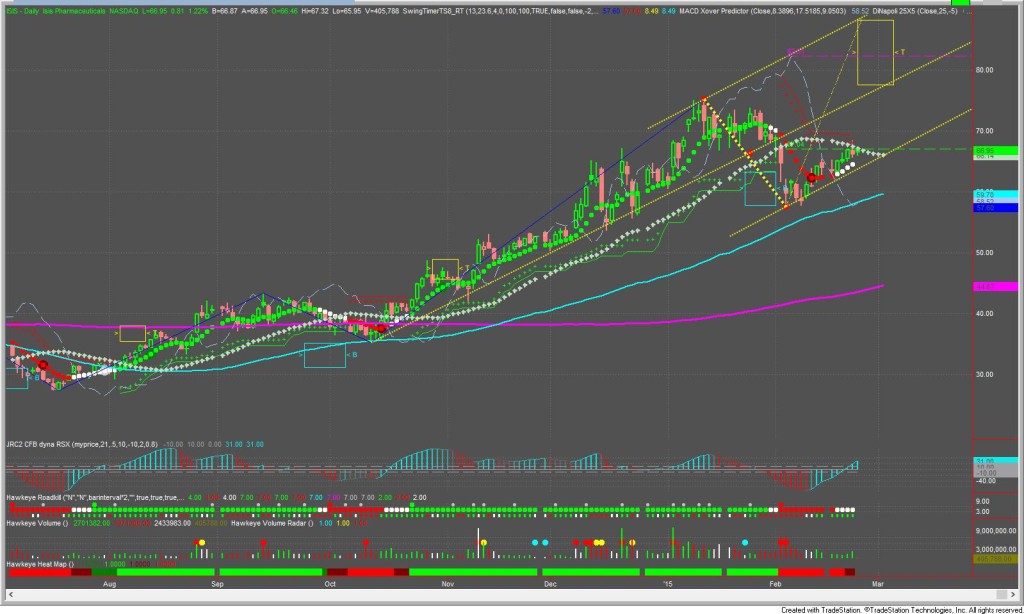 ISIS Pharmaceuticals reports Friday morning the 27th.
Weekly – in a pullback inside the longer term uptrend. trade pressures have been declining but remain positive. Volume is bearish .
Daily –  the trade is long from the 67.04 entry price. Trade pressures are up. Volume is bullish. The next target up is 82.31.
This is a longer cycle trade so expect to hold this for this earnings report and into the next.  The stop is the 80 day, 59.70 currently.
there is a short cycle target at 70.89 with a closer in stop at 63.09.
[Update 3/5/2015: move sell stop to the entry price of 67.04.  The short cycle target of 70.83 has been met. The next target is 75.65 and the Jan'15 highs of 75.10.  The volatility is high with 2-3 point daily trading ranges. OK to take profits on any wide ranging up day.]
[Update 3/6/2015: SOLD @ 71.50. A profit of $4.46 which equals a 6.65% return in less than two weeks. S&P turning down with worries of interest increases.  We will come back to this trade later.]