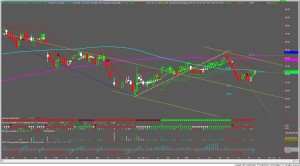 Intel is below both the 80 day and the 200 day, so this is a retracement trade. The dividend is 3.00% at current prices and should pay around August 7th.
Weekly trade pressures are down. Weekly volume is still bearish.
Daily trade pressures are down but rising and ready to cross into positive territory. Volume is bullish.
The trade entry price is 32.22. The actual trade entry is 32.38.
The first target is 34.30. Since this is a retracement trade this first target will be the exit.
Stops at 31.60, which is also the new short entry.
[Update 7/6: this trade was stopped out at the open on 6/26 @31.51. A loss of $.87, or -2.7%.]