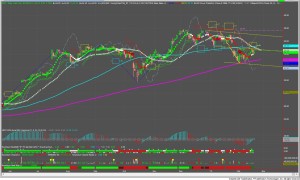 Weekly – Trade pressures are down. Volume has turned neutral. INTC Has completed the move down to the weekly 31.99 target.
Daily – Trade pressures have turned up. Volume is bullish. The long entry price is 34.56. the next target up is 37.71.  The trade will be wrong if price closes below the 200 MA, currently 33.20.  Price has closed above the long entry price once in the last three days. A second time thru should confirm the long entry. Watch the intraday charts for the reversal.
Use that 200 MA level as the stop.
[Update: 2/23] No entry. price is pulling back to the 200 Day MA and showing positive divergence. Bullish volume and Positive trade pressures. Watch for a "wash and rinse" at the 200 day.
[Update 3/12/2015:] Cancel the trade. No entry as the price failed to close above the long entry price. Now the price has closed below the 200 day and prior pivot points – A good view of the South Ocean method keeping us out of a trade.