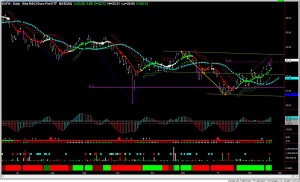 Weekly – three weeks of bullish volume. A close above 23.56 would change the weekly trend to up.  The announcement of the short term debt extension for the Greeks firmed up the move.
So, this Daily move up is still a correction in a weekly down trend.
Daily – Volume is bullish. Trade pressures are up. The trade has closed above the 22.96 target. The temporary nature of the Greek financing agreement makes us believe we will see another move down and then look for a longer term move up from this expected correction. So, this target was the trade exit. The first target has a higher percentage of success with the upper time frame not confirming the trade time frame.
Keep this ETF on the watch list.
So a long entry at 21.61, an exit at 22.96, with good trade management produces $1.35 (6.2%) gross profit in less than 20 days. Can you do this every month? Every trade? No.